I *almost* missed it - but I didn't!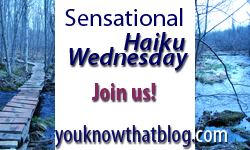 This week's theme is
JOY
. I took a different approach to joy as I understand. It isn't anything that someone can bring you; it's a decision you have to make. The great thing about joy is that things don't have to be doing well in your life for you to have joy. In otherwords, one isn't necessarily synonomous with the other. Isn't that a great idea?
As always, you can click on the graphic to read other great Haikus.
Joy's not happiness
Joy is nothing external
Joy is in the heart
Having joy is a choice
No one can give you real joy
Make the decision
Joy is many things
Joy is in the every day
Joy is simple, pure