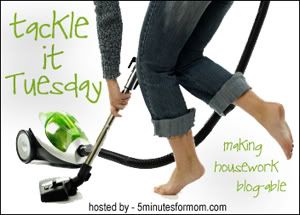 Two for Tuesday. Actually, that's another meme entirely, but I figured I'd participate in Tackle It Tuesday. Not every week will have two memes listed since WOYN is not a weekly thing - this week is just special.
And it's special in more ways than one! Since we're not moving, I have unpacking to do. This is my Tackle It Tuesday (and Wednesday and Thursday and probably Friday and Saturday, too).
We got rid of all the cats except Kitty and Phantom, so we took the opportunity to spray for fleas and ants. (Living in GA has it's perks, but bugs are not one of them. Did I tell you we have rats - outside - too? This ensured that Phantom stayed..he is our resident Rodent Killer).
So, here's what I have to do to turn my To Dos into Ta Das:
Clean every single dish, pot and pan in the house.
Wash all sheets and blankets.
Wash all towels.
Wipe out kitchen cabinets.
Wipe down shelves.
Unpack a bazillion boxes.
I better get going...the house isn't going to clean itself!
Until next time...